Commercial HVAC New Construction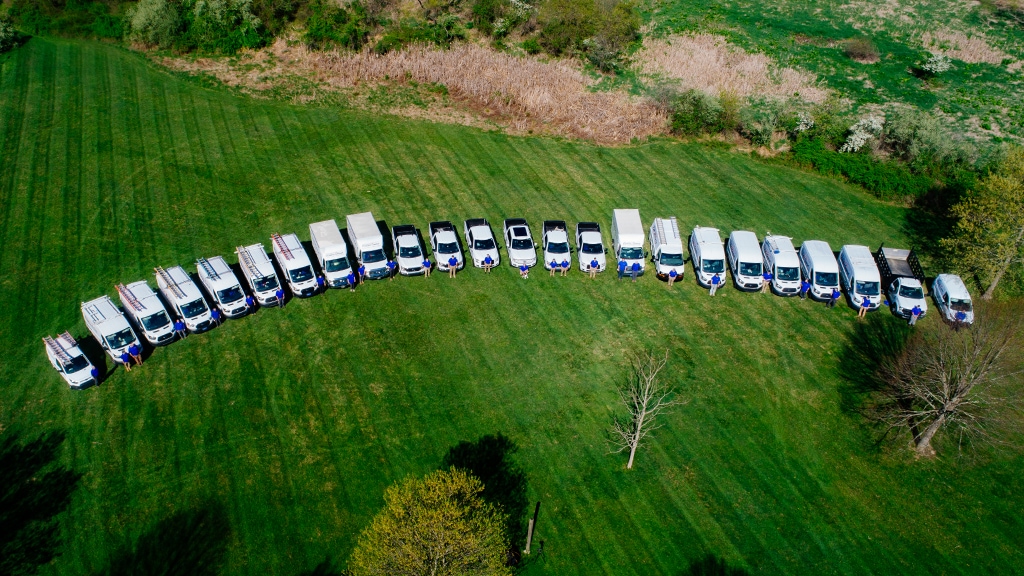 Are you planning to build a new commercial site near West Chester, PA? Chadds Ford Climate Control can handle all your heating and cooling requirements.
We design and build commercial heating, ventilation, and air conditioning (HVAC) system for Pennsylvania businesses. We'll adhere to your build schedule and deliver a comfort solution that exceeds your expectations.
Safety and healthy indoor air quality (IAQ) are our top priorities. Get in touch with Chadds Ford Climate Control today to discuss your project.
HVAC Efficiency Helps You Save
One in four U.S. businesses operates with an oversized rooftop HVAC unit, according to the U.S. Department of Energy (DOE). If the HVAC system in your building is too big, you're paying too much for utilities—oversized units use excessive electricity and cycle too fast.
That's why Chadds Ford Climate Control takes accurate load calculations to ensure you purchase an adequately sized unit for your site. As a result, your energy bills stay low—and your equipment lasts longer.
Customer Service Comes First
Our team of certified HVAC specialists can make your project run smoothly. We're ready to join your crew—whether you need us to design from scratch or already have an HVAC construction plan. We value open communication and work diligently to ensure the end product is tailored to your business needs.
It all starts with you—let us know what systems you want us to install and your deadline. We will take a load calculation of your space, draw up a plan, and provide an estimate.
Once the installation is complete, we test the equipment to ensure optimal airflow and maximum efficiency. Then, we'll provide you with detailed maintenance instructions. If you're unsatisfied with any part of the installation, we'll correct it at no additional charge.
Don't compromise your building's comfort. Be sure to ask about our convenient financing options to create a healthy environment for your tenants, employees, or guests.
Commercial Cooling
Hot Pennsylvania days remind you that AC is integral to your business—it welcomes clients and makes the workplace safe and healthy for employees. It lowers the temperature and improves air quality by reducing humidity.
Let Chadds Ford Climate Control match you with the perfect cooling solution for your business. We recommend investing in a high-efficiency system—it reduces your utility costs and carbon footprint. Get in touch with your local HVAC specialist today to begin exploring options.
Commercial Heating
Wintertime heating is critical for your business. It keeps customers and employees warm. Additionally, it protects assets like your plumbing and appliances from freezing up.
We can add heat to your cold shell, whether you're looking for a rooftop heat pump, a furnace, or a boiler system. Whatever your requirements are, we can deliver.
Commercial Ventilation
Ventilation circulates conditioned air while keeping your space fresh. It helps filter the air and discourages mildew and mold growth.
It also has many specialized purposes in commercial and industrial settings. It can remove airborne fumes like smoke and exhaust and regulate equipment temperature.
Businesses that need special ventilation include:
Restaurants
Factories
Shops
Medical facilities
We offer kitchen hood systems, ventilators, exhaust piping, and more. Every space is different—our custom solutions are built to maximize your location and serve your business needs. Schedule your free consultation today.
Commercial HVAC Maintenance
Chadds Ford Climate Control is your go-to contractor for life. We offer HVAC repairs and maintenance for our Pennsylvania commercial partners. We're here to take care of all your heating and cooling needs—we'll ensure your equipment operates at peak efficiency and meets all regulatory guidelines.
We created our Service Agreements with company owners like you in mind. You'll receive priority service, check-up reminders, lower prices, and more.
Additionally, we have 24/7 emergency repair services to be there when you need us. Anytime your HVAC equipment is down, we can get it back up and running.  
Call Today for First-Rate Commercial HVAC Service
Schedule a free consultation with Chadds Ford Climate Control about your next commercial HVAC project in the West Chester, PA, area. Call us today at (610) 388-9333 or use our website to request service online.
Need Commercial HVAC New Construction Service?