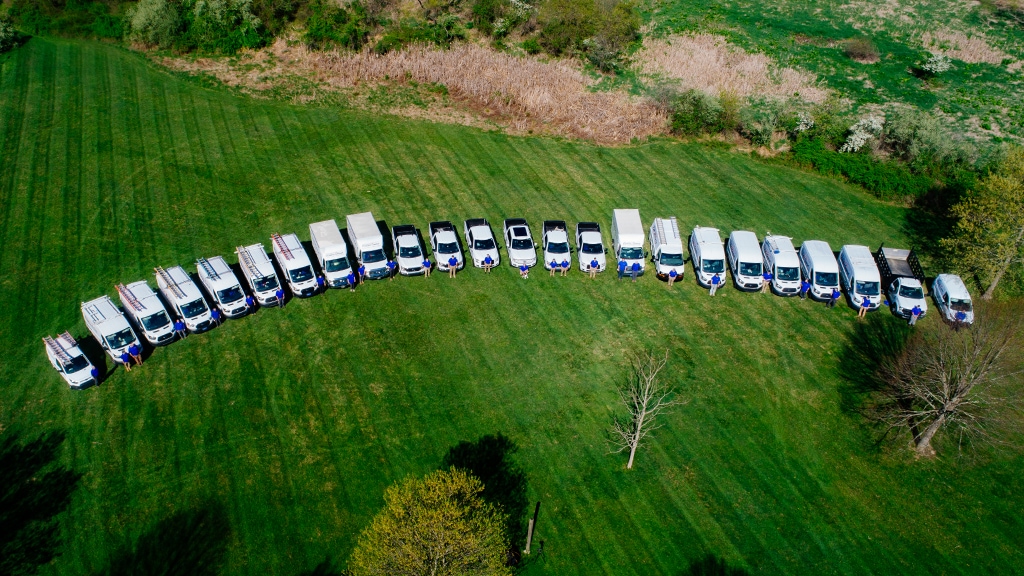 At Chadds Ford Climate Control, we know you expect the best when it comes to your Chadds Ford, PA, home's plumbing. And our licensed plumbers have the training and experience to deliver the best in all your plumbing needs.
From installations to replacements to repairs to maintenance, our professional plumbing team can handle whatever plumbing you may require with ease and expertise.
Our Plumbing Services
Our experienced plumbers can install, retrofit, repair, remodel, and maintain most anything to do with plumbing. Below is our list of most performed services. If you don't see what you need listed here, contact our team. We're sure we can help you.
Bathroom Plumbing
From toilets to showerheads, our Chadds Ford Climate Control plumbers will take care of all your bathroom plumbing needs:
Toilets
Sinks
Faucets
Tub and shower fixtures
Under-sink pipes
Toilet clogs
Kitchen Plumbing
From sinks to water filters, our plumbers will take care of all your kitchen plumbing needs:
Sinks
Faucets
Water filters
Garbage disposals
Dishwasher water lines
Refrigerator water lines
Under-sink pipes
Water Heaters
Let us install a high-efficiency water heater in your Chadds Ford, PA, area home. If your current model is nearing its life expectancy, our plumbers can replace it with an upgraded heater, saving you money in energy costs. If your water heater needs repairing or maintenance, we are here to help.
Sump Pumps
A flooded basement is a costly scenario. The damage water does is extensive and can leave toxic mold in its wake. Act proactively with a sump pump to prevent this type of mishap. We also install, replace, repair, and maintain backup sump pumps.
Water Softeners
You could benefit from a water softener if you currently have hard water. Hard water in your home contributes to mineral buildup inside everything that uses water and can cause damage. This damage can affect your pipes, toilets, water heater, faucets, and small appliances.
Garbage Disposals
The expected life span of a garbage disposal is 10 years. If yours starts making unusual noises while grinding food or stops grinding altogether, call us for a repair. When the time comes to replace your disposal, we have high-quality models to switch out with your old one.
Gas Line Repair and Replacement
When a gas line needs a repair or replacing, our Chadds Ford Climate Control plumbers will take care of that for you. We frequently update the gas lines to ovens or dryers when new appliances are installed.
Kitchen and Bathroom Remodels
Our plumbing team can help you design your plumbing components during the planning stage of your kitchen or bathroom remodeling project. We will also install everything from your tub to sink. Involve us at the start so we can offer our expertise and help save you money along the way.
Water Filtration
Drinking the cleanest water possible is important to your health. Our Chadds Ford Climate Control plumbers can help you choose the best filter for your needs. Let's discuss your plans for a whole-house filtration system or a kitchen filter.
Repiping and New Pipes
All pipes need replacing at some point. When yours are ready for an upgrade, or when you need new pipes plumbed for a plumbing project, call our licensed plumbers.
Backflow Prevention Testing
When you receive notification it's time for your backflow testing, schedule your test with us. Our plumbers will perform your test and make any needed repairs should your backflow valve fail.
Leak Detection
That drip, drip, drip from your ceiling may originate from pipes in a totally different part of your Chadds Ford, home than the dripping point on your ceiling. Leaking water is rarely straightforward when it comes to discovering its point of origin. Our Chadds Ford Climate Control plumbers can save you time, frustration, and usually money by locating the leak for you. We can then proceed to make the necessary repairs.
Drain Cleaning
On occasion, the drains and pipes in your Pennsylvania home may have an obstruction. Sometimes there is a blockage backing up all your home's drains, and other times it may be a less severe issue in just one sink pipe. No matter the cause—tree roots, toilet obstructions, unusual articles accidentally dropped down drains—call our plumbers. We will soon have the water in your drains and pipes flowing in no time.
Frozen Pipes
When the coldest of winter temperatures strike and freeze your pipes, don't panic. Call our plumbing team to professionally thaw them in a manner to avoid pipe bursts.
Plumbing Installation and Replacement
Everything has a life expectancy, which means it all wears out. Your Pennsylvania home's plumbing is no exception.
Whether your home needs repiping, you need a new sump pump, or you are remodeling your bathroom or kitchen, our trusted and expert plumbers can help you choose the best replacement for your home.
Your satisfaction is everything to us, and we know how much an investment your plumbing can be. We only recommend top-quality brands and materials for all we do. No matter your budget, our Chadds Ford Climate Control plumbers will work within your plan still using only the leading products. We will customize your plumbing to fit your needs.
Installing quality products results in longer life spans, with the proper maintenance. This is a wise return on your investment, leaving you satisfied, which is our primary goal.
Be sure to talk to us about our financing options for some of our plumbing systems and products.
Plumbing Repairs
The majority of needed plumbing repairs tend to be unexpected. When your toilet won't flush or your laundry tub overflows creating a flood, you need a professional plumber you trust to diagnose and repair the issue quickly.
Our reliable plumbers are here to take care of any plumbing repair you may have. We service all makes and models.
Plumbing repairs are something you need to deal with immediately, as water can cause extensive and unhealthy conditions in no time. It can cause damage to most materials and can build a collection of spore-bearing mold and mildew very quickly. Unfortunately, the longer you wait, the worse your water issue becomes.
If your plumbing issue has plumbing, or gas, pipes involved with it, we can fix it. From your refrigerator's leaking water line to your stopped sump pump, from your drippy bathroom showerhead to your rusted water-treatment system, from your noisy water heater to your running toilet, when you have a plumbing problem, call our professional Chadds Ford Climate Control plumbers first.
When you have an emergency plumbing repair, our licensed plumbers are available to you, no matter the time of day. We offer 24/7 emergency service for your peace of mind. Call us when you need us.
Plumbing Maintenance
Performing regular preventative maintenance on your plumbing is a wise investment in your Pennsylvania home—just as it is for your heating, ventilation, and air conditioning (HVAC) system. Our professional plumbers will regularly inspect and maintain your plumbing systems and appliances, keeping your investment protected and in peak performance.
Speak with one of our knowledgeable Chadds Ford Climate Control team members about how our maintenance agreement plan, Service Agreements, can help you. We have several options—something for every need and budget.
Call Chadds Ford Climate Control for All Your Plumbing Needs
We will always meet your highest expectations. Our professional licensed Chadds Ford Climate Control plumbers are highly trained and experienced in all things plumbing. Contact us here in Chadds Ford, PA, at (610) 388-9333 or request service online today.