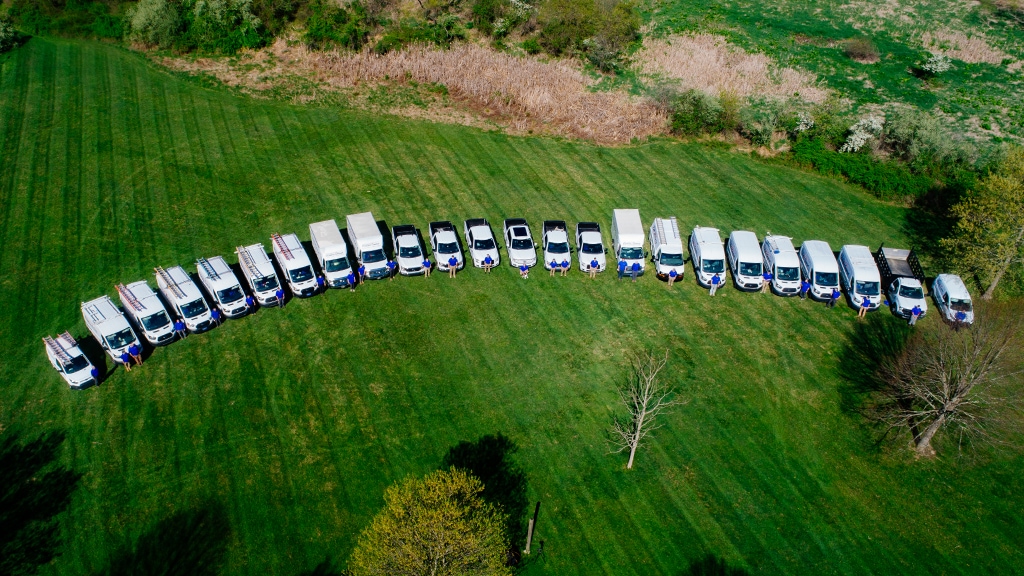 Radiant floor heating is a tried-and-true, efficient way of providing optimum comfort for your West Chester, PA, home. Also known as radiant heating systems, radiant floor systems offer numerous benefits—increased comfort, even temperatures, and no cold drafts, all while being quieter and more energy efficient than forced-air heat.
With this type of heating, components are installed underneath your floor, warming up every object in the room. No blowing of air containing possible allergens and dust in your home. You can enjoy the glow of continuous warmth throughout every nook and cranny. No more cold areas in rooms.
At Chadds Ford Climate Control, we thoroughly understand radiant heating. Our professionals provide all the radiant floor heating services you need to feel cozier than ever inside your home here in Pennsylvania.
How Does It Work?
Radiant floors work very differently than traditional heating, ventilation, and air conditioning (HVAC) systems and their forced-air heat. Radiant heat's warmth originates from hot-water tubes or electric wires buried beneath your home's floor.
As the invisible waves of heat rise from below, instead of warming the air, they warm any and all objects in the room. These now-warmed items radiate the captured heat.
Your room's air temperature remains steady since your furniture and other items are not stealing warmth from you. This creates a reliable type of comfort in your home—the heat does not dip as it sometimes can with forced-air heating.
Hydronic Floor Heating
If you are interested in having radiant floor heating throughout your entire home, then hydronic floors is the way to go. Your boiler or water heater provides the hot water, which travels through the tubing underneath the floors and creates the floor heating you need to feel comfortable throughout your home.
There are several different ways to have hydronic floors installed, and our Chadds Ford Climate Control experts would be happy to go over the best options for you.
Electric Floor Heating
Although electric floor heating is usually not the primary source for heat in a home, it's a great way to keep comfortable, especially during colder seasons. If you have an addition to your home or want to keep your bathrooms extra warm, adding electric floor heating could be the perfect solution as it's a viable option for supplemental heat.
Benefits of Radiant Floor Heating
When you have radiant floor heating in your West Chester, home, you can look forward to experiencing these benefits:
Healthier indoor air quality (IAQ) since particles won't be circulating in your air.
Higher energy efficiency without conditioned air leaking from air ducts.
Reduced heating expenses due to lower thermostat settings.
Even heating throughout your home without cold spots
Compatibility with most floor types—wood, laminate, tile, carpet.
Radiant Floor Installation and Replacement
If the allure of this steady and invisible heat is something you are considering for your Pennsylvania home, our licensed Chadds Ford Climate Control experts would love to talk with you about it.
We can install a system in a new home you are building, or we can convert your current forced-air-heated home to radiant floor heating. Or if your current radiant floor is nearing the end of its life span, our team will install a replacement system for you.
At Chadds Ford Climate Control, we will meet you where you are and help you achieve the level of comfort you want in your West Chester, home. Whatever stage you are in, give us a call today.
We offer financing to help with your investment. Talk to one of our team members for more details.
Radiant Floor Repairs
If you are already enjoying the easy warmth of radiant floor heating but something is amiss, for example the pump starts getting loud, you may need a repair. Our knowledgeable experts will come out to effectively diagnose and address the issue.
Repairs for radiant heat are less frequent than other heating systems, but sometimes an adjustment or repair is needed. When that time arrives, we are here for you.
And if you run into a radiant floor emergency, we offer 24/7 services for just such a time.
Radiant Floor Maintenance
Simply because the majority of your radiant heating remains out of sight does not mean there's no maintenance involved. Like every other HVAC system, regular professional maintenance is required.
During an annual maintenance appointment, our Chadds Ford Climate Control heating and cooling professionals will conduct a comprehensive inspection of your system. We will check your system's pressure and the condition of its pumps and valves.
Regular professional maintenance is vital to keep your system in proper working order. You want your radiant heat to keep your home comfortable for years to come.
Let us help you with your preventative maintenance by participating in our maintenance agreement plan, Service Agreements. We have something for every budget and need. Speak to us for more information on how we can get you started.  
Contact Chadds Ford Climate Control Today
For more information on radiant floor heating, just contact Chadds Ford Climate Control here in West Chester, PA. Let us use our extensive experience with radiant systems to help you achieve the ultimate in heating comfort. Call us today at (610) 388-9333 or request service online.
Need Radiant Floor Service?