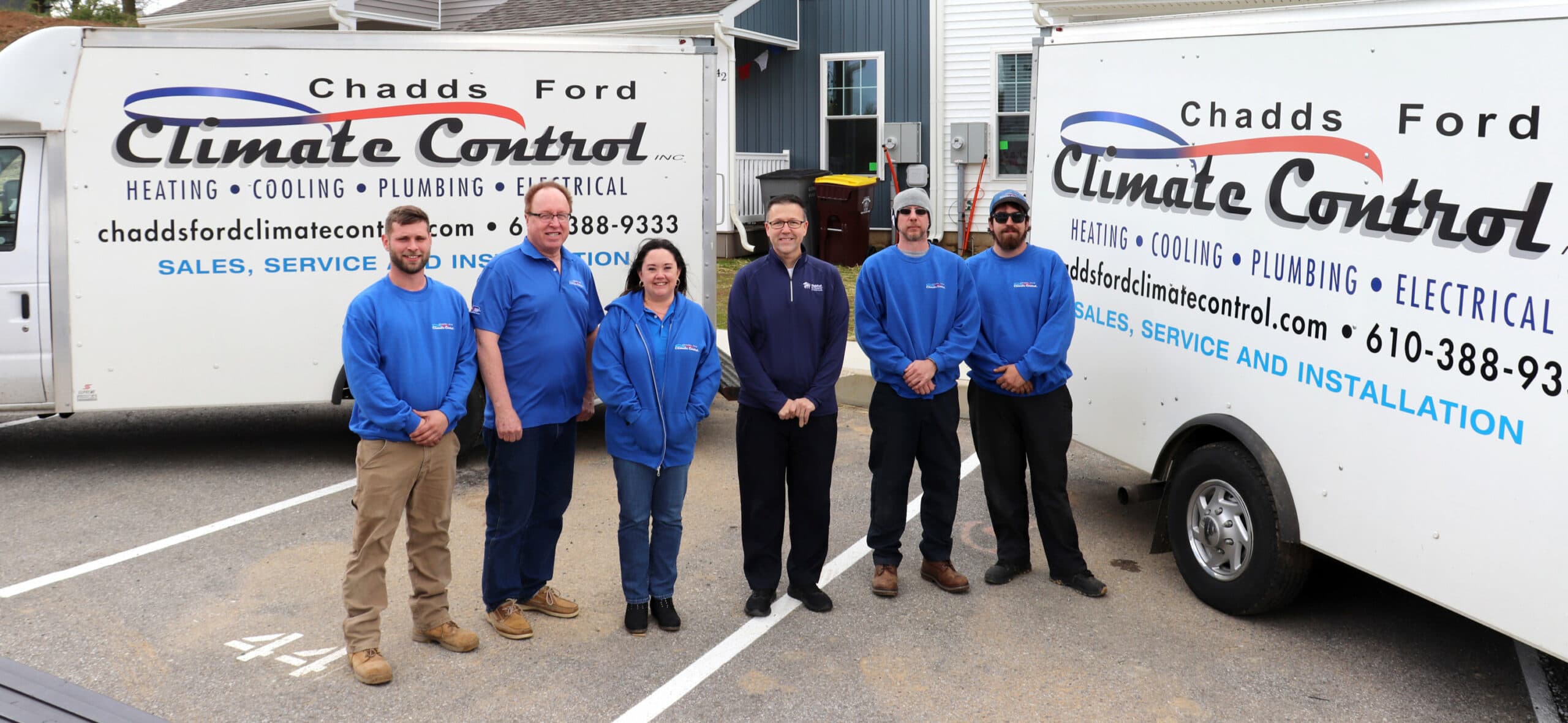 Owner Ken Blackburn and family have taken pride in building Chadds Ford Climate Control from the ground up. Beyond our humble beginnings, we acquired two family companies in 2018, adding a plumbing division and the Delaware region. Then in 2022, we expanded our footprint in Delaware and Pennsylvania and now proudly serve the needs of EA Harvey and Moon Plumbing customers—welcoming them into the Chadds Ford Climate Control family.
Now with four Chadds Ford Climate Control locations, we can provide even faster 24/7 high-quality cooling, heating, plumbing, electrical, and home services for Chester County, PA, and Newcastle County, DE, residents. This growth has positioned the Chadds Ford Climate Control Team with over 75 years of combined service. Our team consists of multiple military veterans, and we offer all veterans a 10 percent discount on service calls.The Chadds Ford Climate Control Team has gone the extra mile in maintaining our family values and services while becoming an industry leader in providing innovative products and comfort systems:
We are your Total Air Quality Solutions Experts. There is no place like home where the air inside your house suits your comfort level and is free from viruses, germs, and bacteria that continuously pollute your indoor air. Ask about our innovative air quality solutions to experience clean air at the perfect temperature.
We are certified in completing air quality audits for customized air purification systems. In particular, we have several customers with severe allergies, and we've designed custom air purification systems that make their homes comfortable.
We are your Total Energy Solutions Experts. Your home is at its maximum comfort level when it is free from cold and hot spots, and any air leakage has been identified and reduced. Our innovative energy solutions increase your home's comfort level while reducing energy costs.
We are BPI certified in completing energy audits (Envelope, Analyst, Duct Blast), from infrared cameras to blower door to duct blast testing. We put your home under negative pressure to identify and solve home leakage. In particular, after completing our analysis, we provide a report with photos, walk through your home, explain our findings, and prioritize the work that needs to be addressed. Our solutions are straightforward —we will show you how to make the repairs yourself, or, if desired, we can do these for you.
We are your Heating and Cooling Solutions Experts. The number one Bryant Dealer in the Northeast Region, factory authorized, Bryant Medal of Excellence Dealer. We provide good, better, and best equipment systems, from boilers, ductless, hybrid, geothermal to radiant floor heating systems. Our factory-authorized technical and install teams deliver professional installations with industry knowledge on every system, whether we are installing or maintaining.
We are NATE certified. Our teams are trained weekly in the latest equipment and smart controls systems. We'll install new products and equipment in our family/team homes, and only after it passes our test do we recommend these systems to customers.
We are your Plumbing Solutions Experts. Our highly skilled plumbers are a trusted source for our customers who need repairs or installations, including water heaters, tankless, water treatment systems, drain cleaning, and wells.
We are licensed and insured in Pennsylvania and Delaware.
We are your Electrical Solutions Experts. We install Generac generators and provide electric panel upgrades, service, and maintenance that will continually give you peace of mind in case of a power outage or electrical failure.
We're Here When You Need Us
We are staffed on a 24/7 basis for emergency repairs. We also can provide virtual estimates and repairs for your convenience via your laptop or smartphone.
We Love Our Community
The Chadds Ford Climate Control Team's passion is to assist our customers. We always go the extra mile and believe in giving back to our community and supporting various charities. We are members of the Better Business Bureau, Southern Chester County Chamber of Commerce, and Habitat for Humanity.
We enjoy the Unionville Community Fair and the Kennett Mushroom Festival every year—look for our booth! We also participate in the Chadds Ford Pumpkin Carve and sponsor Friends School, URA Baseball, Kennett Run Charities, and more.
Look for our many 5-star reviews —we look forward to serving you in the near future.Thank you for being our customer!
Contact Our Dedicated Team of Professionals
For Both Residential and Commercial Heating, Cooling,
Plumbing, and Electrical Services!