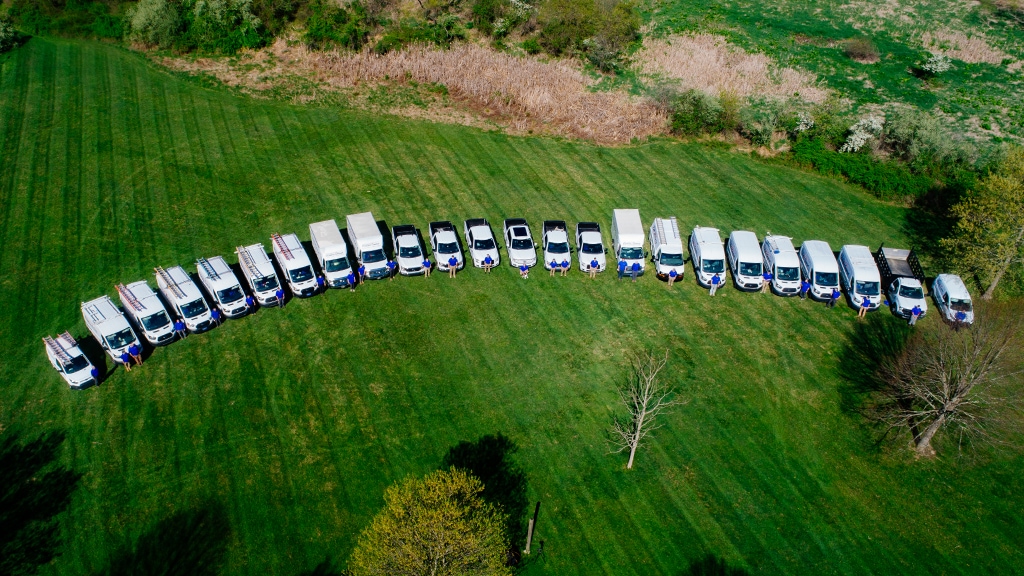 Air Conditioning Repair | AC System Repair | Air Conditioner Repair
Once you have made the investment into a cool and comfortable West Chester, PA, home or work environment, the last thing you want to do is deal with hot, sticky conditions because your air conditioner is malfunctioning. While cooling systems are generally very reliable, wear and tear, dust and grime, and other factors can occasionally lead to concerns. Rather than struggle along with anything less than perfect performance, contact the specialists from Chadds Ford Climate Control.
We provide the prompt, affordable, and accurate service you need to get the greatest value from your HVAC equipment. We strive to eliminate the aggravation, disruption, and various reasons home and business owners tend to put off calling for professional assistance. We do not subject our customers to long delays, excessive costs, property damage, debris, discarded equipment, or evacuated refrigerant. We handle everything with the highest level of professionalism from beginning to end. We believe your repair service is not complete until you are totally satisfied.
Superior service for your AC repairs!
As a Bryant Factory Authorized Dealer, our technicians at Chadds Ford Climate Control are factory-trained, regularly updated, and adhere to rigid procedures for installation, maintenance, and AC service. We reach for factory-authorized parts when possible, restoring original efficiency, sound levels, and durability.
Our fully licensed specialists perform accurate diagnoses, provide cost-effective options, and protect your long-term satisfaction with meticulous workmanship. Through years of industry experience, we are familiar with all types of cooling systems and service all makes and models. Fully stocked service trucks and leading-edge diagnostic tools allow us to manage the majority of issues in one house call.
Rest assured that we take the time to do the job right, implementing solutions that endure heat, humidity, time, and constant use. Our goal is to provide greater value from your equipment by extending service life, promoting superior efficiency, and preventing further malfunctions.
Central Air Conditioning Repair in Thornton, PA | Air Conditioning Repair West Chester, PA
Knowing what to look for with your HVAC unit is essential in spotting potential issues early. The earlier you find issues, the simpler the repairs will be, the smoother your system will run, and the more money you will save in the long run. Timely repairs will save you the hassle of service interruptions and the price of a replacement system.
Some of the common signs of air conditioning issues include strange sounds, odors, leaks, warm air coming from the vents, and rising energy costs. Even if the system is still functional, any of these signs could indicate a potential problem that could lead to disaster. When you see, hear, or smell something off about your HVAC system, call Chadds Ford Climate Control to handle it.
At Chadds Ford Climate Control, we take all of our services seriously, so you know you can trust us for your air conditioner repairs every time!
Family owned and operated, Chadds Ford Climate Control upholds exceptional standards for business practices, customer focus, and technical knowledge. With the certainty that comes from years of in-field experience, we alert our customers that even the smallest issue with your cooling systems results in a higher cost of operation.
While you are living with screeching sounds, dripping condensate, ice buildup, decreased capacity, extended run times, or constant startup and shutdown, you also pay a higher price each and every month. You might even be subjecting your family to poor indoor air quality. With affordable pricing, prompt response, and courteous service from Chadds Ford Climate Control, there is no reason to put off any repairs.
We are always here when you need us, offering emergency service in Chadds Ford and across Kennett Square, West Chester, PA, Glen Mills, Landenberg, Malvern, and Paoli, PA. For a rewarding experience and long-term benefits, contact Chadds Ford Climate Control. We will get you back to the cool comfort you deserve.
Chadds Ford, Kennett Square, West Chester, Glen Mills, Landenberg, Malvern, and Paoli, PA
Need Air Conditioner Repair Service?
"From sales with Marty designing the perfect HVAC system for my house after hurricane Ida, to Installation having him oversee the job things have been wonderful with Chaddsford Climate Control. Dina is on top of sending the best tech out to my house, Bill whom is super knowledgeable and always answers my questions making sure I understand things clearly. All while preforming my system maintenance to help keep my investment running at peak. I really feel the care the company has for their clients and am glad I chose to go with Chaddsford climate control for my new system replacement. Thank you all so much!"
- Victoria M.
"My air conditioning system needed to be checked since it was not working.  Bill McDonald from Chadd's Ford Climate Control came out to evaluate my air conditioner.
Every aspect of my experience was exceptional.  He was on time and called beforehand to let me know that he would be arriving in 15 minutes.  Bill was super helpful and patient with me and all my questions. He explained every aspect of what needed to be done and gave me plenty of time to process and ask more questions. He was thorough and professional. When he presented the estimate he was polite and did not try to sell anything extra. My repair was perfect. I will use this company again and again.
Thank you Bill!"
- Carol V.
"As always, prompt arrival. Thoroughly explained the reason one part that should be replaced sooner than later rather than simply saying it must be done now, giving me the option. That was truly appreciated. Bill McDonald is an excellent serviceman!"
- Jamie F.