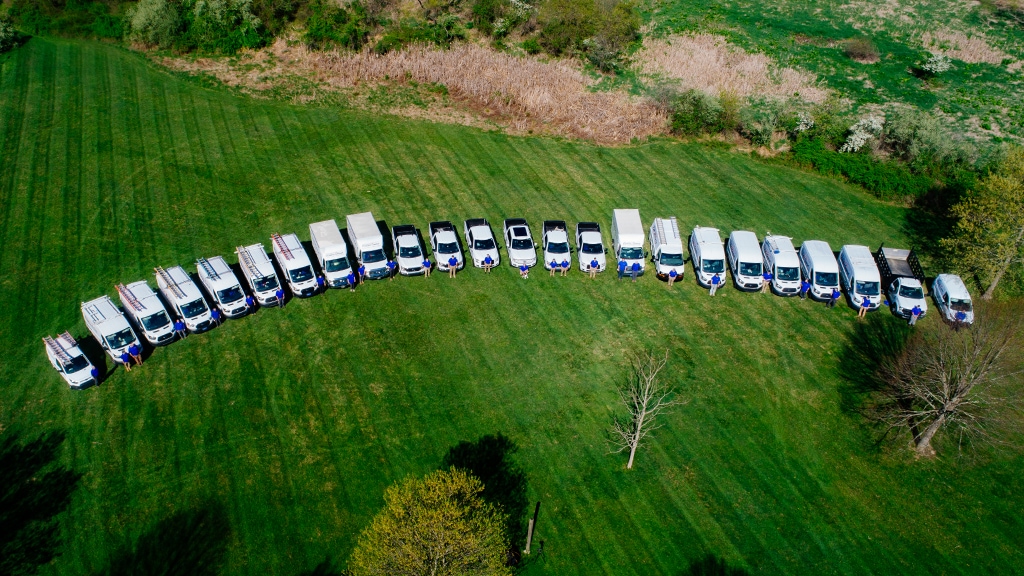 Chadds Ford Climate Control has a team of licensed plumbers ready to assist with your next commercial plumbing project in Pennsylvania. We specialize in plumbing installation, replacement, repair, and maintenance. We back our work with a warranty and offer practical solutions to lower your costs. You can trust us to do the work to your satisfaction. Call us today for a free consultation!
Our team at Chadds Ford Climate Control will always provide forward-thinking solutions for your business. Upgrading to water-saving appliances and fixtures, for example, can reduce your commercial water bill by 20 percent or more, according to the U.S. Environmental Protection Agency (EPA).
We can audit your location and find ways to help you save—call today for a free evaluation.
Commercial Plumbing Construction
Are you ready to get started on your new buildout? From beginning to end, Chadds Ford Climate Control can handle all your plumbing needs. That includes:
Plumbing design
Water fixtures like sinks and toilets
Water heaters
Garbage disposals
Boilers
Sump pumps and septic pumps
Drains
We can join your pre-construction team or complete an installation based on your plans. Our professionals will stick to your timeline and ensure the end product exceeds your expectations. All set to begin? Get in touch with us today.
Commercial Plumbing Installation and Replacement
Need new piping, water appliances, or fixtures for your Pennsylvania commercial property? We perform plumbing installations that are built to last. Our plumbers are masters of their craft and use only the finest building materials.
Our convenient financing options can help you buy the commercial plumbing equipment you need for your building or business.  
Does my bathroom need a makeover?
Water fixtures have become much more efficient in recent years. If your restrooms have toilets and sinks that are more than 25 years old, you're due for an upgrade.
Some older toilets use a whopping seven gallons every time someone flushes—over four times higher than the current minimum requirement for toilets made in the United States. The EPA estimates a workplace with 1,000 employees could save nearly $10,000 on utilities yearly by switching to high-efficiency sinks and toilets.
How do I know if I need a new water heater?
Well-maintained tank water heaters and boilers will operate efficiently for approximately 15 years. Tankless water heaters last considerably longer—20 years or more.
Signs of an expired water heater include:
No hot water
Leaks
Foul water taste, scent, or coloring
Due to frequent repair costs, putting off a replacement is more expensive in the long run. Additionally, you can get dinged during a health inspection if your hot water does not work correctly. Call today to schedule a replacement.
How do I know if I need repiping?
Sometimes, old commercial spaces have worn piping. This issue can present several problems: leaks can cause low water pressure, mold growth, and water damage. You may also see a significant jump in your water bill.
Chadds Ford Climate Control can examine your water system to see whether total or partial repiping is warranted. Call today to make your appointment.
Commercial Plumbing Repair
Plumbing issues can quickly halt productivity—we work diligently to problem-solve and restore at your location.
Call us if you're experiencing:
Leaks
Pipe bursts
Slow-draining or clogged sinks
Water heater problems
Broken sump pump
We're the team you can always rely on, offering 24/7 emergency plumbing services to be there when you need us.
Commercial Plumbing Maintenance
We're licensed to inspect and maintain your water system. Our experts will ensure your business is operating efficiently and meets code requirements for:
Your city
Pennsylvania
The Occupational Safety and Health Administration (OSHA)
Preventative maintenance also ensures that your system is operating at maximum efficiency. It saves you money in the long run—both on your water bill and repair costs. It extends the life span of your water-using appliances and helps prevent minor issues from turning into larger ones.
Our Service Agreements makes managing maintenance convenient and straightforward for Kennett Square, area owners. You'll get a friendly phone reminder when it's time for a check-up. You will also receive discounts on many of our services and your service requests will be prioritized. Call today to learn more.  
Need a Reliable Plumber for Your Business? Call Today.
Chadds Ford Climate Control is a trusted name in Kennett Square, PA, for all your commercial plumbing needs. Call us today at (610) 388-9333 or request service online.
Need Commercial Plumbing Service?