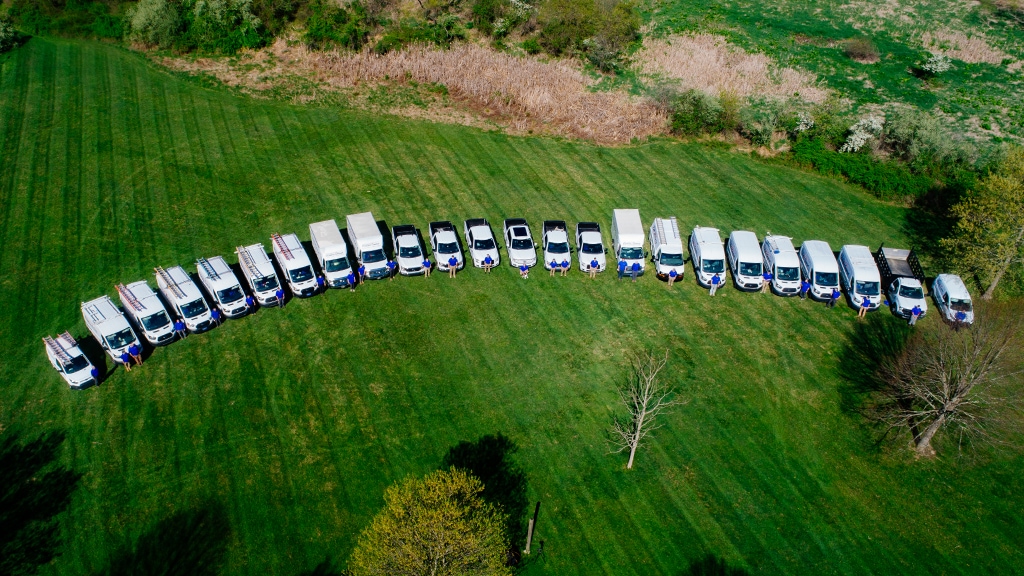 Sometimes, less is more. Tankless water heaters are less than half the size of storage tanks. But unlike traditional water heaters, they can produce an endless stream of hot water.
Instead of storing water, tankless units use a heating element to create hot water on demand. For homeowners looking to reduce their energy bills and carbon footprint, a tankless water heater is a great place to start!
In many cases, they are hands-down the most cost-effective water system—up to 34 percent more efficient than a traditional tank in homes that use 41 gallons per day or less, according to the U.S. Department of Energy (DOE).
Chadds Ford Climate Control is proud to install first-rate plumbing products for Pennsylvania homeowners like you. Located in the Chadds Ford, PA, area, our licensed plumbers are ready to assist with your next project.
What Are the Benefits of Going Tankless?
Tankless water heaters have many benefits over storage tanks. They require a slightly higher upfront investment—but in most cases, it will pay off long-term.
Here are a few reasons why homeowners are choosing to ditch the tank:
High Efficiency
Homes that use higher amounts of hot water (80 gallons per day or more) will save up to 14 percent on utilities with a demand-type unit over a storage tank. That's because storage tanks constantly use energy to keep the water supply hot.
Longer Showers
On-demand water supply means you'll never run out of hot water—no more bickering with the last family member who used the shower.
Built to Last
These units can be expected to work for 20 years or longer, while traditional tanks will last 10 to 15 years.
Plenty of Space
Tankless water heaters are briefcase-sized—they mount cleanly to your wall, leaving more room for storage.
Tankless Water Heater Installation and Replacement
Ready to upgrade? Chadds Ford Climate Control's team of licensed plumbers can expertly install your new tankless water heater. Here's how the process works:
We inspect your home and make calculations to find the right-sized unit for your needs.
We provide you with a plan of action and an upfront estimate.
We install your heater, ensure it's operating in prime condition, and provide you with maintenance guidelines.
Need to pay in increments rather than all at once? No problem—our financing plans can help you access the highest quality plumbing equipment. Give us a call today to learn more.
Tankless Water Heater Repair
Plumbing issues? Our team is ready whenever you need us. We offer 24/7 emergency plumbing services.
Let us know right away if you're experiencing the following issues:
No hot water
Irregular sounds
We only hire the most courteous and highly-skilled service technicians for the job. Additionally, we offer upfront parts and service estimates—no surprises when you work with us.
Tankless Water Heater Maintenance
Want to save cash on utilities and retain the value you invested in your home? Seasonal maintenance is critical for your home HVAC and plumbing systems.
It guarantees everything is operating at maximum efficiency, so your energy and water bills stay as low as possible.
It preserves the condition of your HVAC and plumbing system, so you won't have to replace anything prematurely.
It reduces the likelihood you'll need to make a repair call—your specialist can catch minor issues before they turn into bigger ones.
Your water heater needs annual maintenance—so do your heating unit and AC. Fortunately, we put it all in a bundle with our Service Agreements. You'll receive priority service, check-up reminders, discounts, and more. Get in touch with us today to learn about our offers.
Call Now for Expert Home Service Today
Chadds Ford Climate Control is grateful to our neighbors in Chadds Ford, PA, and the surrounding area—connecting with our community is the most rewarding part of the job. Call today at (610) 388-9333 or request service online.
Need Tankless Water Heater Service?