Commercial Indoor Air Quality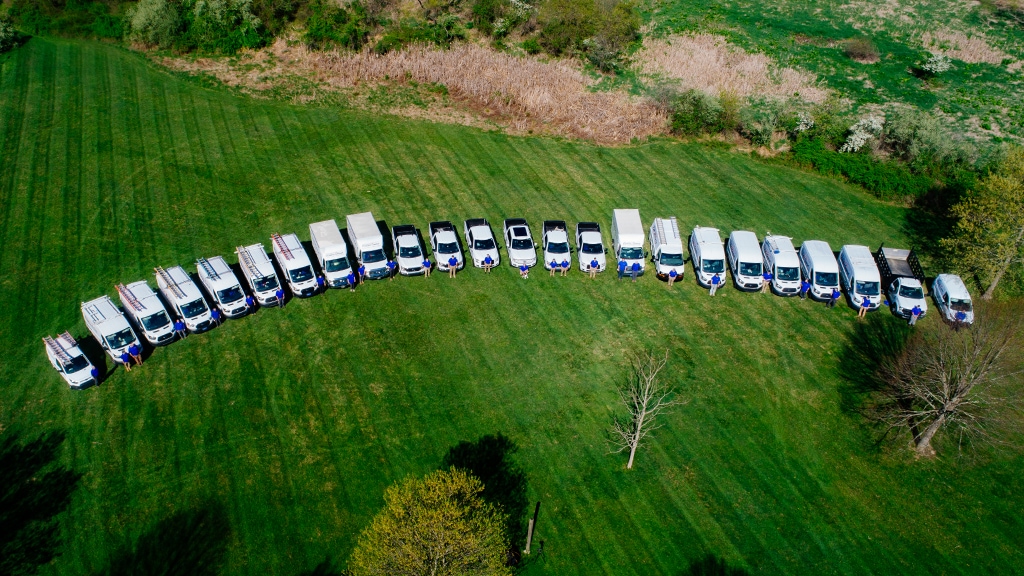 Healthy air in the workplace is essential. Scientific studies show that good indoor air quality (IAQ) boosts productivity, according to the U.S. Occupational Safety and Health Administration (OSHA).
Heating and cooling are important—but don't forget ventilation, air filtration, and humidity balance. Chadds Ford Climate Control takes a holistic approach to comfort when we work with Pennsylvania businesses.
Our Kennett Square, PA, HVAC specialists install only the finest IAQ products in addition to air conditioners, furnaces, and heat pumps.
How Do I Know If My Building Has Unhealthy Air?
Reactions may vary widely, ranging from mild to severe. The U.S. Environmental Protection Agency (EPA) calls these adverse effects "sick building syndrome" (SBS) caused by poor ventilation combined with indoor pollutants.
Symptoms may be more pronounced in patrons and employees suffering from allergies, asthma, or other health issues. Signs of poor indoor air include:
Cold or flu-like symptoms
Irritation to skin, eyes, nose, or throat
Headaches
Dizziness
Shortness of breath
Airborne Pollutants Inside the Workplace
Indoors, airborne pollutants may be two to three times more concentrated than they are outdoors. These pollutants fall under three categories, as defined by OSHA.
Biological Pollutants
Plants and animals produce these irritants. They may trigger allergic reactions or respiratory symptoms. Examples include:
Dander
Mildew and mold
Pollen
Germs (bacteria and viruses)
Fungi
Pest urine and feces (mice, rats, cockroaches)
Chemical Pollutants
These harmful nuisances can be found in gas or vapor form. Employees and customers can be exposed if proper workplace measures such as ventilation or masking aren't implemented. Examples include:
Wet paint
Cleaning supplies
Adhesives
Pesticides
Combustion can also create deadly gases like carbon monoxide (CO), nitrogen dioxide, and formaldehyde.
Particle Pollutants
Solids and liquids that are harmful when inhaled fall under this category. Poor ventilation and inadequate cleaning protocols can make these an issue. Examples include:
Dry paint
Dirt, dust, and debris
Runoff from operating equipment such as printers
The fine powder produced by construction (wood, drywall)
Commercial HVAC Installation and Replacement
Need heating, cooling, or IAQ equipment installed at your location? Let Chadds Ford Climate Control help you out. If you have an unfinished space, we can design and build your HVAC system from scratch—ductwork, vents, and all.
Is your current forced air system in need of replacement? These are the signs:
The unit is more than 15 years old.
You're constantly making repair calls.
Your utility bills have gone up.
Schedule your free consultation today—we'll provide an honest assessment of your HVAC equipment. Our specialists will let you know whether a repair or replacement is best suited for your needs—we'll never sell you a product or service that isn't necessary.
Commercial HVAC Repairs
Losing heat or AC at your business is a major inconvenience. But conveniently, our professionals are available 24 hours a day, seven days a week, for emergency HVAC services.
Located in nearby Kennett Square, PA, we can repair any make or model. Call today if you're experiencing issues with the following:
Rooftop AC or heat pump
Furnace
Kitchen exhaust hoods and ventilation
Ductless mini splits
Commercial HVAC Maintenance
Seasonal maintenance is an absolute must for your forced air system. It ensures your system operates efficiently and safely in compliance with Pennsylvania code. You'll enjoy the following benefits:
Lower energy expenses
Longer equipment lifespan
Less frequent repairs
Your heating and cooling system is in good hands with Chadds Ford Climate Control.
We make seasonal checkups simple and convenient with our Service Agreements. Join and receive discounts, priority service, and friendly reminders when you're due for service.  
Call Today for Professional AC, Heating, and IAQ
Chadds Ford Climate Control is proud to serve our neighboring businesses in Kennett Square, PA, and its surrounding communities. Call today at (610) 388-9333 or request service online.
Need Commercial Indoor Air Quality Service?