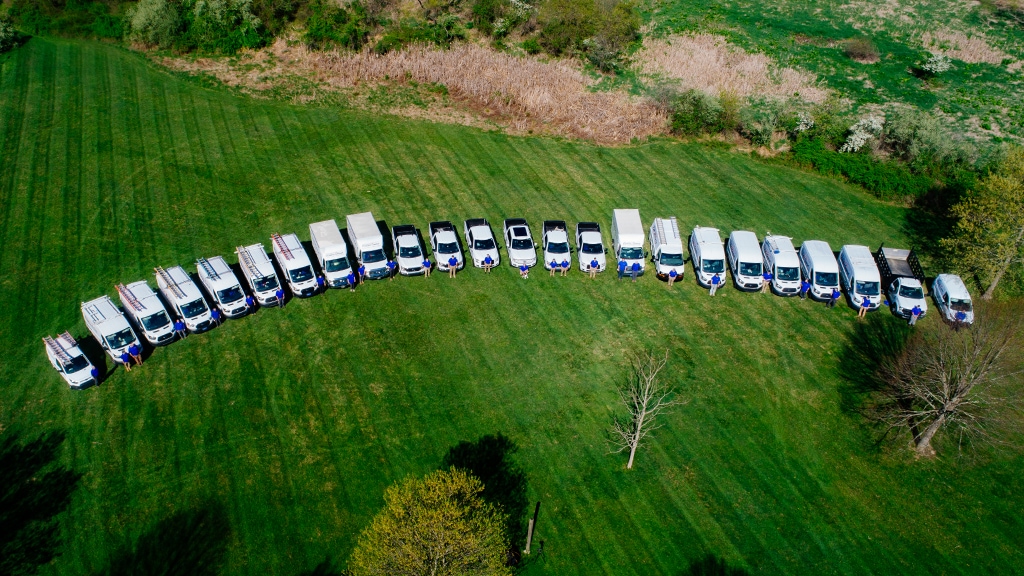 Every day, the success of your Pennsylvania business depends on consistency. Your perishable items require a consistent temperature, allowing to deliver a healthy and safe product to your customers and minimize waste.
When you work with Chadds Ford Climate Control, you can be confident that our team handles all your cooling and heating needs with care. Our certified HVACR experts are well versed in commercial refrigeration services. Located in Kennett Square, PA, we perform quality installations, repairs, and maintenance.
Do I Need a New Refrigerator?
In most cases, it makes sense to start planning to replace commercial refrigerators and freezers after 10 to 12 good years of service. While a new fridge is a significant investment, it's the most cost-effective solution, whether it's a walk-in, reach-in, or low-boy. An old cooling system that regularly breaks down or doesn't maintain the proper temperature can wreak havoc on your bottom line.
The magic settings are 40 degrees or below for refrigerated products and zero degrees for frozen products. At room temperature, food attracts bacteria that can make customers get sick. According to the U.S. Food and Drug Administration (FDA), the number of bacteria doubles every 20 minutes.
Commercial Refrigeration Installation
Need new refrigeration equipment? Our team can expertly install quality, cooling products tailored to the needs of your Pennsylvania business. Whether you're starting from scratch or upgrading your current cold storage, we're here to help.
We will collaborate with you from start to finish. Here's how the process works:
First, we will consult with you to find the right product for your business.
Next, we provide you with an upfront estimate and a detailed installation timeline.
Then, we will install the refrigeration system to your specifications.
Finally, we will give you detailed maintenance requirements and warranty information.
Be sure to ask about our convenient financing options to help you purchase the equipment your business deserves.
Commercial Refrigeration Repairs
Got a broken fridge? Give us a call—we'll get your cooling system back up and running. Our HVACR specialists can quickly troubleshoot and diagnose the problem.
We'll let you know what the issue is, the repair we're going to address, and an estimate beforehand. We also provide warranties on all our repairs. Our team services all makes and models, including reach-ins, walk-ins, uprights, ice machines, and more.
Get in touch with us right away if you notice issues such as:
Short cycling
Frost buildup
Overflowing ice machine
Overcooling or undercooling
Mishaps rarely occur at a convenient time. That's why we offer 24/7 emergency service for our commercial partners. We're there when you need us.
Commercial Refrigeration Maintenance
Maintenance for your cold storage appliances is vital. It keeps them last longer, as well as run safely and efficiently. Our Kennett Square, PA, professionals perform thorough examinations, ensuring everything is up to code. We want you to pass your health inspection with flying colors! Additionally, they will be able to detect and correct issues before they turn into costly repairs.
Here are just a few of the key tasks your technician will complete during a checkup:
Test refrigerant levels for leakage
Clean fans, evaporator coils, condenser coils, drains, and other components
Apply lubricant to door hinges
Inspect thermostats
Check for damaged parts and replace them if necessary
In between visits from our team, we recommend thoroughly cleaning your refrigeration equipment at least once monthly and keeping it dry. This protects the internal components from damage and discourages mold growth.
Our Service Agreements program makes it easy to stay on top of maintenance with appointment reminders. You can also skip the line with priority service, receive repair discounts, and more.  
Ready for a Reliable Contractor? Call Today for Service.
Chadds Ford Climate Control has a team of certified experts ready to offer top-rated heating, cooling, and commercial refrigeration services for Kennett Square, PA, businesses like you. Need our assistance? Let's get started. Call our office today at (610) 388-9333 or request service online.
Need Commercial Refrigeration Service?