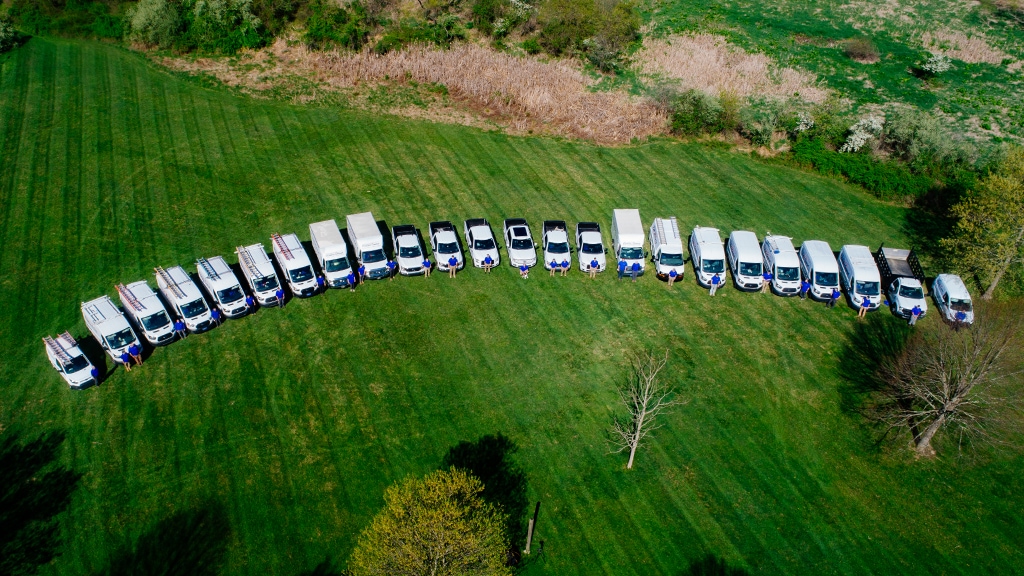 As a Chadds Ford, PA, business owner, you always want to keep your customers comfortable throughout the year—doing so requires a reliable commercial heating and commercial cooling system. When it comes to finding the right commercial heating equipment for your company, you can count on Chadds Ford Climate Control to get the job done right.
Our team of certified professionals at Chadds Ford Climate Control is licensed and insured. We specialize in installing, replacing, repairing, and maintaining all major brands of heating, ventilation, and air conditioning (HVAC) equipment.
No matter the time of year, Chadds Ford Climate Control is here to ensure your commercial HVAC equipment is running at peak capacity. Our philosophy is to build partnerships with every service call.
Commercial Heating Installation and Replacement
All commercial heating systems, even the best maintained, do need replacing at some point in time. When the time comes for your Pennsylvania business to install a new commercial heating system, whether it's outdoor rooftops or indoor units, our Chadds Ford Climate Control installation experts can walk you through a new installation from design to completion.
We will assist you in choosing the most appropriate heating system for your Kennett Square, business's needs, providing the highest comfort for both your employees and customers, all at a price that accommodates your budget.
When you are ready for us to install a retrofit or entirely new system for you, our experienced professionals will work expeditiously to put in your new system without disturbing your everyday workings. At Chadds Ford Climate Control, we only carry the top makes and models for commercial refrigeration, heating, and cooling, so you never need question the quality of your system.
These systems operate at a high efficiency, using less energy, thereby generating lower energy costs. And with regular professional maintenance, your commercial heating system will perform at high efficiency for years to come.
We can assist with your HVAC investment with options in financing. Talk to us about how we can help with your commercial heating purchase.
Commercial Heating Repairs
When your Kennett Square, business is open, and your HVAC system is not working properly, call us right away. At Chadds Ford Climate Control, our repair experts take great pride in being able to fix the majority of makes and models of HVAC equipment. If we can't fix it, then we will gladly recommend a company close by that will get the job done.
Our goal with every service is 100 percent complete customer satisfaction.
We always provide up-front estimates so there are no hidden surprises. Our team greatly values the trust you place in our Kennett Square, company and promise never to replace unless necessary, or if we can demonstrate significant cost savings.
You can put your trust in our support. We are available 24/7 for emergency repair services should you have need of emergency repairs after working hours. Our team will always do all we can to help you in your business.
Commercial Heating Maintenance
An expensive mistake many Pennsylvania business owners make is thinking of bypassing regular professional maintenance for their commercial heating system. Having routine maintenance actually saves you money by avoiding unexpected costly repairs and replacements.
Between your customers, employees, deliveries, and dozens of other issues, running a business can feel overwhelming at times. Allow us to take care of your commercial heating system and other HVAC equipment.
With regular commercial maintenance, our HVAC experts can alert you to any needed repairs, enabling you to plan for them.
To help you keep on track with your maintenance, we offer commercial maintenance plans. We can customize a plan to fit your company's needs. With a maintenance plan, your system will run more efficiently and have longer life, both resulting in lower costs for you in the long run.
Contact Your Commercial Heating Experts at Chadds Ford Climate Control
Call Chadds Ford Climate Control today to schedule an inspection, cleaning, and tune-up of your commercial heating system so it operates at optimum performance throughout the colder months. Our clients in the Chadds Ford, PA, area know they can depend on us when something breaks or needs replacement. Call (610) 388-9333 or request service online today to learn more about our commercial HVAC services.
Need Commercial Heating Service?