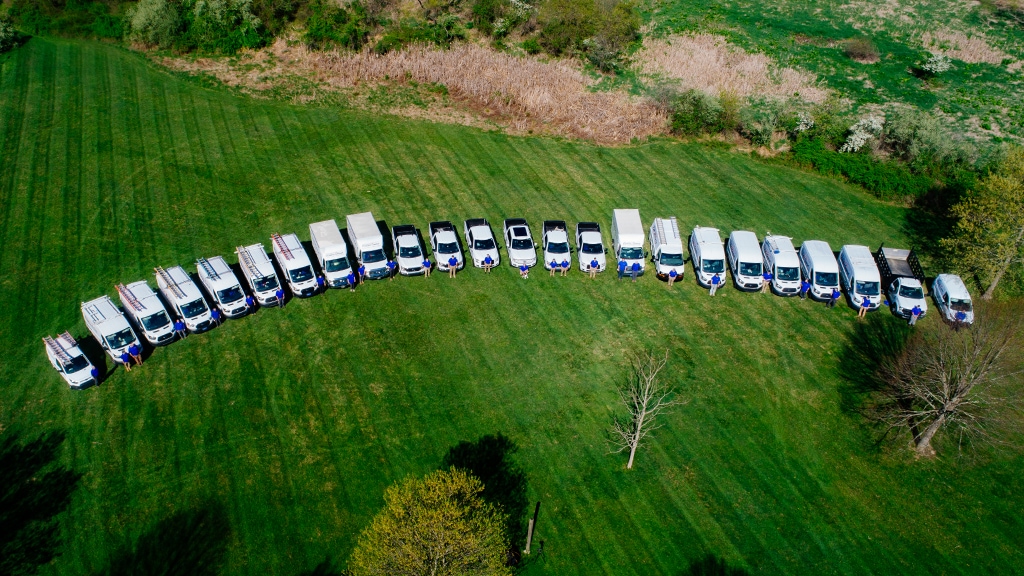 UV Light Installation, Indoor Air Quality Service, and Air Purification
Want to keep your home cleaner and healthier than ever before? The REME Whole-Home Air Purifier kills up to 99 percent of bacteria, mold, and viruses. While REME does not have testing specifically on COVID-19, we have validated test results showing more than 99 percent reductions on similar viruses. We make no medical claims, but these viruses, like COVID-19, are also 'enveloped' or protein-jacketed virus types.
For thorough infection control, many hospitals have approved and installed REME products throughout their facilities, which are under strict regulations by the U.S. Food and Drug Administration (FDA).
Enjoy the benefits of professional indoor air quality services from Chadds Ford Climate Control!
It is often necessary to take proactive measures to ensure optimum indoor air quality. Health risks, discomfort, and higher heating and cooling costs are challenges that can be solved through proven air quality products. As a Bryant Factory Authorized Dealer, Chadds Ford Climate Control specializes in implementing state-of-the-art technology that incorporates into your HVAC unit, creating a cleaner, healthier, and more enjoyable indoor environment. Our technicians are certified by the Building Performance Institute (BPI) and can address your specific concerns and circumstances to provide recommendations that are exactly right for you.
Breathe Easy With Our Expert Indoor Air Quality Solutions
Through a number of options, we deliver energy-saving potential, superior comfort, and healthier air that is free from contaminants. You will feel more productive, sleep better, avoid numerous health risks, and save money on heating and cooling costs. The advantages of air quality improvement are worthwhile and ongoing. These systems work tirelessly and silently, improving air quality throughout the entire home or commercial space. Plus, you will enjoy maximum value when our qualified professionals at Chadds Ford Climate Control accurately install your equipment.
Some of the rewarding solutions offered by Chadds Ford Climate Control include:
The proven-effective Bryant Perfect Air Purifier utilizes Captures and Kills technology to eliminate harmful bacteria, viruses, pollen, and mold from the air you breathe. You will enjoy a cleaner, healthier home as this reliable system kills 99 percent of the captured pathogens and irritants in your indoor environment. The air is not just filtered but purified up to eight times every hour.  The Bryant Perfect Air Purifier is one hundred times more effective than portable units. Incorporated into your HVAC unit, the system improves air quality in the entire home, protecting your comfort and well-being in every room.
The Bryant Preferred Series Steam Humidifier, with up to 34 gallons output, infuses necessary moisture into dry, heated air, utilizing a patented steam dispersion tube for effective moisture delivery. Steam humidifiers provide a natural form of humidity and the fastest method of increasing and maintaining appropriate levels, protecting against dry skin, chapped lips, static electricity, and damage to fine wood furnishings.
The Bryant High-Capacity, Fan-Powered Humidifier features high output with superior moisture dispersal over simply bypass operation. Both quiet and effective, whole-house humidification helps lower winter heating costs because properly humidified air feels warmer. You will enjoy ideal comfort at lower thermostat settings, and protect against aggravated symptoms of eczema and psoriasis.
The Bryant Preferred Series Whole-Home Dehumidifier eliminates that sticky feeling and the higher cooling costs caused by excessive humidity.  By extracting moisture from the air, effective dehumidifiers let you feel cooler air at higher temperatures. Quiet and compact, these units offer automated operation based on your personal preferences, zoning capability, and wall-mounted control, allowing you to respond to changing conditions or requirements. Maintaining humidity within an ideal range discourages dust mites, cockroaches, and insects while also defending against contaminants that thrive in warm, damp air, such as mold and mildew, and preventing moisture damage to wood furnishings, books, artwork, and more.
While an airtight home envelope is necessary to protect against energy waste, air quality often suffers. With no way for fresh indoor air to enter, the same stale, polluted air is circulated over and over.  Bryant ventilators introduce pre-filtered outdoor air into your indoor environment. Trapped, contaminated air is replaced by fresh, healthy air.  You get all the advantages of opening a window without wasting energy or sacrificing comfort.  You will not only breathe easier but enjoy greater control over humidity and superior temperature control.
Indoor Air Quality Service in Chadds Ford, PA | UV Light Installation in Paoli, PA | Air Purification in Newark, DE
Need Indoor Air Quality Service?